French Trail in Florida, 1562-Present
Biographical Profiles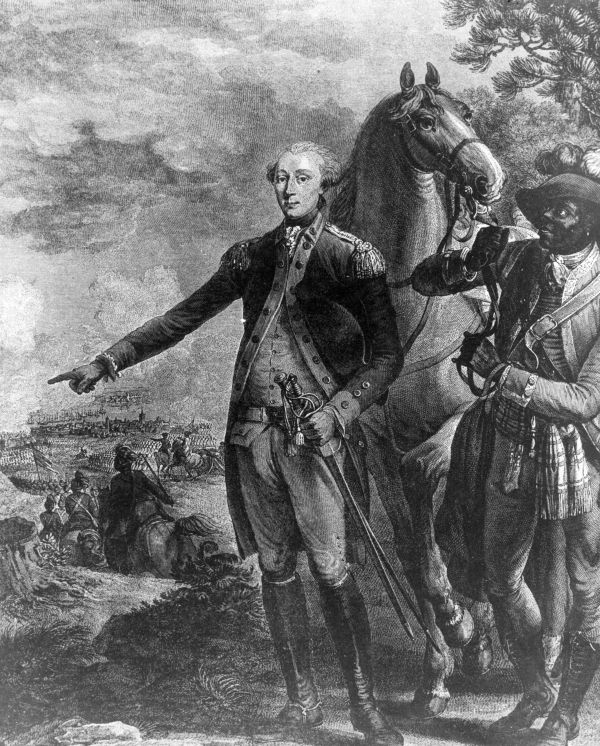 Marie-Joseph Paul Yves Roch Gilbert du Motier, Marquis de La Fayette/Lafayette (1757-1834). Born into nobility, Lafayette had inherited a large fortune. By the age of 13, in April 1771, he began his military service. In 1777, after negotiations with Benjamin Franklin, he formed a small volunteer force of 18 French officers and sailed to North America, where in July, he was appointed a major general in the Army of the United States.
Lafayette's baptism under fire came at the Battle of Brandywine (near Chadds Ford, Pa.) on September 11, 1777. He then participated in the Battle of Barren Hill, May 20, 1778, and the Battle of Monmouth, June 28, earning respect from General Washington and his troops. After such a stalwart service, in February 1779, Lafayette returned to a hero's welcome in Paris. He persuaded King Louis XVI to send a force to aid the Americans in their War of Independence against Britain. In April 1780, he returned to rejoin George Washington and the next year played an active role in the siege of Yorktown (Sept. 28 – Oct. 19, 1781). In January 1782, Lafayette returned to France. Following the Franco-British pacification in 1784, Lafayette made another journey to America. In 1788, he also joined the French abolitionist group "Society of the Friends of the Blacks' (Fr. Société des amis des Noir) led by a future revolutionary, Jacques Pierre Brissot.
Lafayette became deeply involved in the Assembly of Notables, which prepared the way for the Estates-General meeting that convened in May 1789, aiming to remedy France's economical, colonial, political, social and other problems. On July 16, 1789, Lafayette was appointed commander of the Paris National Guard and also co-founded a political club "Friends of the 1789 Constitution" (also known as feuillants). On July 14, 1790, Lafayette took the civic oath vowing to "be ever faithful to the nation, to the law, and to the king."
Lafayette was promoted to lieutenant general in June 1791, but after the Champs de Mars's massacre in July he was discharged from his post and was sent to the front line. On April 20, 1792, France declared war against Austria; in July 1792, Lafayette took command of the Army of the North, where he protested the suspension of the king. He arrested the government representatives sent to his headquarters – an act that earned him dismissal and recall to Paris. However, on Aug. 19, 1792, Lafayette and several of his staff officers decided to cross the frontier to join the enemy. Far from being welcomed, Lafayette was arrested, and for the next five years was confined in various fortresses. He was freed in September 1797 at the time of the peace negotiations with Austria. As a private citizen, Lafayette took no part in French affairs until Napoleon's abdication in 1814, when he was welcomed back by the new French King, Louis XVIII.
Lafayette visited the United States in 1824-25 and, for his distinctive service, Congress awarded him $200,000 and his choice of a township worth of 36 square miles of land (near Tallahassee, Florida). In February 1834, Lafayette caught pneumonia and died in May at the age of 76. A figure of a world stature, Lafayette's role in the American Revolution was an important factor in preparing the way for the upheaval that overtook France since 1789.
"Ribault's Landing", Lee Adams (1959). (courtesy of the City of Jacksonville)
Jean Ribault (1520-65), a Huguenot (Calvinist Protestant) sea captain, was a native of Dieppe, Upper Normandy.
During the Wars of Religion in France (1562-98), he was under orders of Admiral of France Gaspard de Coligny. In February 1562, he sent Ribault to explore the possibility of establishing a Huguenot colony in the New World. Leaving France on April 30 with three ships carrying some 160 colonists, Ribault ended up at the mouth of the St. Johns River in modern-day Jacksonville, Florida. Eventually, Ribault came to Port Royal Sound (present-day South Carolina), where he established a small settlement and built a fort (Charlesfort). By the end of 1562, Ribault returned to France, and then traveled to England to promote the Huguenot cause but was detained as a spy. While in prison, he composed "Narrative of the First Voyage of Jean de Ribault... in Florida, A.D. 1562."
In June 1565, Ribault was released from English custody, and Coligny sent him back to Florida with five ships and 800 new settlers. He arrived in August and found a temporary shelter at Fort Caroline, which had been built by his second-in-command, Captain René Goulaine de Laudonnière. Ribault relieved Laudonnière from his command and assumed leadership at the settlement. Ribault soon encountered Spaniards who also tried to establish control in Florida. On September 29, 1565, Don Pedro Menéndez de Avilés attacked Fort Caroline and killed all but a few French Huguenots. Ribault, in his attempt to pursue the Spaniards, was hit by a storm and was shipwrecked at the Matanzas Inlet, near St. Augustine. On October 12, Ribault and his crew (about 350) were surrounded by Spaniards and put to a sword as Protestant heretics; only those French who supposedly professed Catholicism were spared.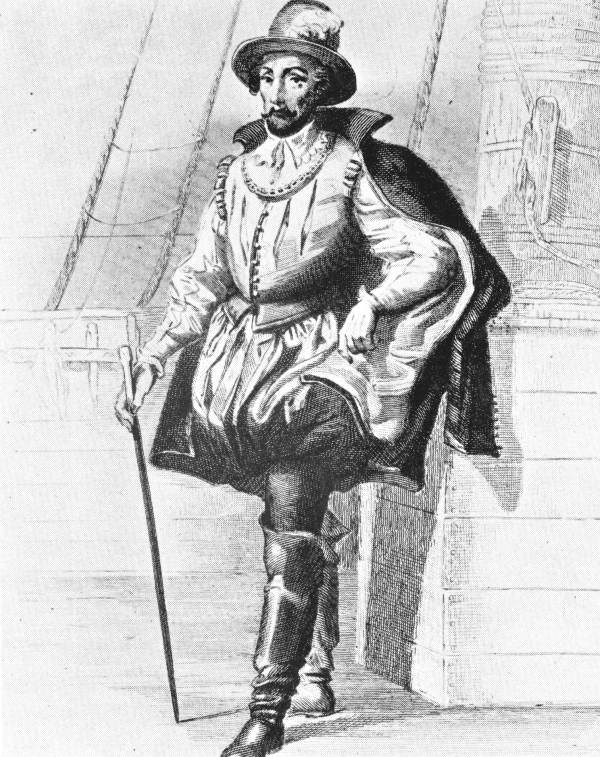 René Goulaine de Laudonnière (1529-74), was a French naval captain, a native of Poitou, and Jean Ribault's second-in-command on the first expedition to Florida in 1562. During his second voyage, on June 29-30, 1564, he built Fort Caroline atop St. Johns Bluff in present-day Jacksonville. On August 3, 1565, Laudonnière collected food and brought a ship, so he could send colonists back to France. While he was waiting for a favorable wind, on September 10, 1565, Ribault arrived with more settlers and soldiers. Ribault informed Laudonnière that he had been relieved of his authority, but offered him a shared ruling over the new colony. This arrangement was unacceptable to Laudonnière, who resolved to return to France. However, with 100 civilians and only 20 soldiers, Laudonnière found himself blocked at Fort Caroline, which was besieged by the Spaniards. On Sept. 29, the Spaniards overwhelmed the lightly defended Huguenot garrison and killed most of the male colonists; Laudonnière and nearly 50 of his fellow Huguenots managed to escape and soon sailed toward Europe. Laudonnière reached Paris around December 1565 and then vanished in the turmoil of the Catholic-Protestant Religious Wars. In 1572, Laudonnière emerged as a merchant mariner at La Rochelle for a while, but died at St. Germain-en-Laye in 1574. His memoir,"The notable history of Florida's three voyages by French captains," was published in 1586.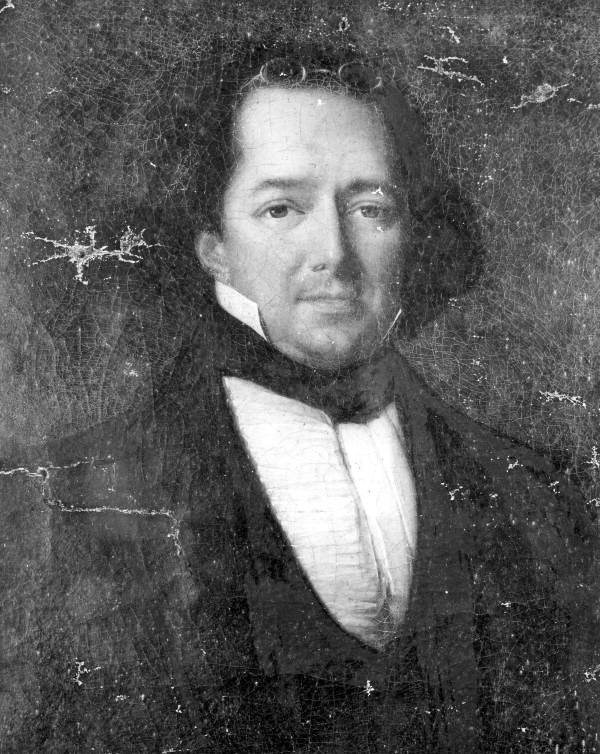 Achille Murat (1801-47). Charles Louis Napoléon Achille, 2nd Prince Murat (Hereditary Prince of Cleve Berg, 1806, and Crown Prince of Naples, 1808-15) was born on January 21, 1801, in Paris to Napoléon's sister Caroline Bonaparte and General Joachim Murat, future marshal of the French Empire (1804) and King of Naples (1808-15). In 1815, after his father was captured and executed while trying to regain control of Naples, the Murat family was exiled to Austria. In 1821, Achille decided to move to the United States. After a short stay in New York, he traveled through the United States, and in 1823 arrived in St. Augustine, Fla. He meshed with city society, joined the Masonic lodge and soon purchased a plantation called Parthenope. In 1825, Murat moved to Middle Florida, where he acquired another plantation, Lipona, located east of Tallahassee. On July 12, 1826, Murat married Catherine Daingerfield Willis Gray, who was the great-grandniece of George Washington. He began his military service in the Florida militia and obtained the rank of lieutenant colonel. In 1827, he traveled to South Carolina. Following the July Revolution of 1830 in France, Murat returned to Europe and served briefly as colonel of the Belgian Legion. While in Belgium and France, he had hoped to regain part of the family fortune that he believed to be his based on the properties of his parents. His attempts were futile, however, and in 1834 the Murats returned to Florida. Achille was appointed a judge in Jefferson County and, in 1835, he worked as a lawyer in New Orleans. In 1839, he traveled extensively across Europe but eventually he returned to his plantation in Florida, where died on April 15, 1847. He is buried at St. Johns Cemetery in Tallahassee.
Simon Bernard (1779-1839), was a French general of engineers. Born in Dôle (Département of Jura), Bernard was admitted to the famous École Polytechnique in December 1794. Promoted to a lieutenant, he served during the French Revolutionary Wars (1792-1800) in various armies of the French Republic and Consulate. By the time Napoleon came to power as the Emperor in 1804, Bernard was an experienced engineer officer, and was quickly promoted for his bravery in combat and practical knowledge of the art of fortifications. Bernard was promoted to brigadier general by Napoleon just a few weeks before the Emperor's first abdication in 1814. Bernard was welcomed by the returned King, Louis XVIII, who confirmed all his ranks and titles and appointed him a senior military engineer at the Rochefort fortress. However, when Napoleon returned to France in March 1815, Bernard followed him, taking part in the final Battle of Waterloo (June 1815). After Napoleon's second abdication, Bernard was compelled to abandon French service because of his conflict with the newly established Royal War Ministry. Refusing an offer for employment from Tsar Alexander I of Russia, Bernard emigrated to the United States, where he was appointed brigadier general of the U.S. Army in 1816. Bernard undertook several fortification projects in New York, Alabama and Florida. One of the fortifications he designed was Fort Pickens (constructed 1829-34) at the western tip of Santa Rosa Island, Pensacola.