French Trail in Florida, 1562-Present
I. First expeditions and arrivals, 1562-1565
1. Parris Island and Charlesfort
1562 ... France is torn apart by the Wars of Religion (1562-98), which divided the Catholics (under the ruling House of Valois) and Huguenot party (Protestant Calvinists). One of the Huguenots' leaders, Admiral of France Gaspard de Coligny (1519-72), seeking religious toleration and anticipating a long fight, had an alternative plan. He called upon his close subordinate, Capt. Jean Ribault (1520-65), gave him three ships, and ordered him to explore the possibility of finding some territories in the New World where all persecuted Huguenots could safely establish themselves and practice their religion.
"Ribault's Landing" by Lee Adams, 1959. On display at the Jacksonville Downtown Library. © City of Jacksonville
Leaving France on February 18, 1562, with 150 colonists, Ribault crossed Grande Mer du Nord (the Atlantic Ocean) and by April 30 arrived at the mouth of the St. Johns River in modern-day Jacksonville. He named it the "May River" (mai), as this was the month when he found it, and erected a stone column, claiming the territory for France. Ribault later wrote in his journal:
"Thursday, the last of April (30th), 1562, we discovered and approached a fair coast, stretching a great length, covered with an infinite number of high and large trees, we being seven or eight miles from the shore, the country seeming to us a plain without any appearance of hills; and, arriving within four or five miles of the land, we cast anchor in ten fathoms of water, the bottom of the sea and fast hold on the south side, as far as a certain cape situated under the latitude of nine-and-twenty degrees and a half, which we have named Cape François [in a close proximity of what is now called Cape Canaveral]."
Ribault's expedition then proceeded north, charting more of the coastline and noting several rivers. Eventually, they came to Port Royal Sound in present-day South Carolina, where Ribault decided to establish a settlement on Parris Island, one of the Sea Islands off the coast. The French captain oversaw the construction of a small fort, which he named Charlesfort in honor of the French King Charles IX. Ribault left 27 soldiers under the command of Albert de la Pierria to man the fort, and set sail for France to arrange supplies for the new colony. While back home, Ribault assisted the Huguenot cause; he traveled to England, where he attempted to enlist Queen Elizabeth I's support but was detained as a spy and placed in the Tower of London. As for Charlesfort: One year later, the first French settlement was abandoned and all colonists – except for one – returned to Europe.
2. Fort Caroline and the first Thanksgiving
The Peace of Amboise which, in March 1563, pacified Catholics and Huguenots, allowed Admiral de Coligny to resume his attention for a new voyage to America. He appointed Capt. René Goulaine de Laudonnière (1529-74), who had been Ribault's second-in-command on the 1562 expedition when he landed at the Dolphin River near St. Augustine. Laudonnière was to lead a contingent of nearly 300 new settlers – including four women – back to Florida. There, on June 29, 1564, the French founded Fort Caroline (la Caroline) atop St. Johns Bluff, near present-day Jacksonville – which was also named for King Charles IX.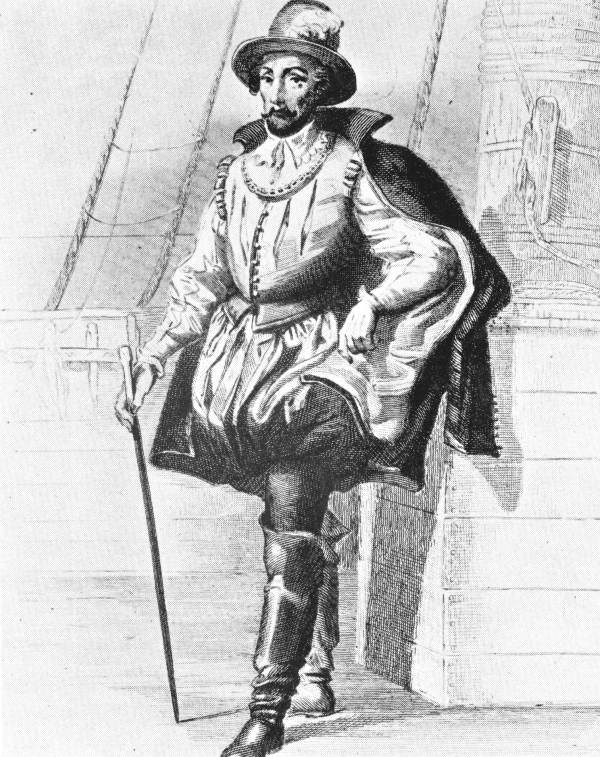 René Goulaine de Laudonnière, a Huguenot and sea captain (courtesy of the State Archives of Florida).
At the beginning, the Indians assisted the returning French, who were grateful for the grain and fruit provided by the local Timucuan tribe. With this apparent success, Captain Laudonnière called a feast on June 30, 1564. On this celebration, he wrote: "We sang a psalm of Thanksgiving unto God, beseeching Him that it would please His Grace to continue His accustomed goodness toward us." This was 57 years before the famous and better-known Thanksgiving celebration in Plymouth, Mass.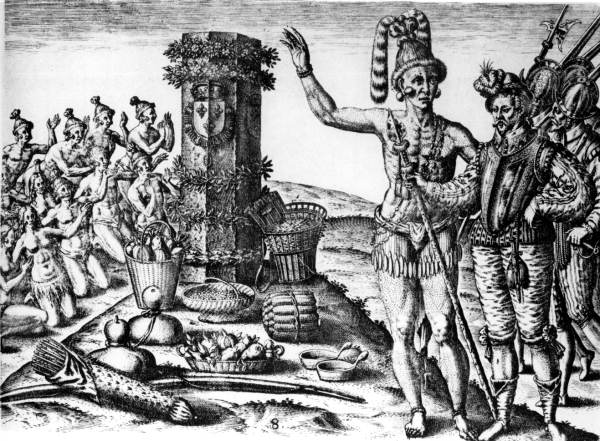 Athore, son of the local Timucuan Indians showing Laudonnière the monument placed by Ribault in 1562 (engraving after Jacques LeMoyne, Courtesy of the State Archives of Florida).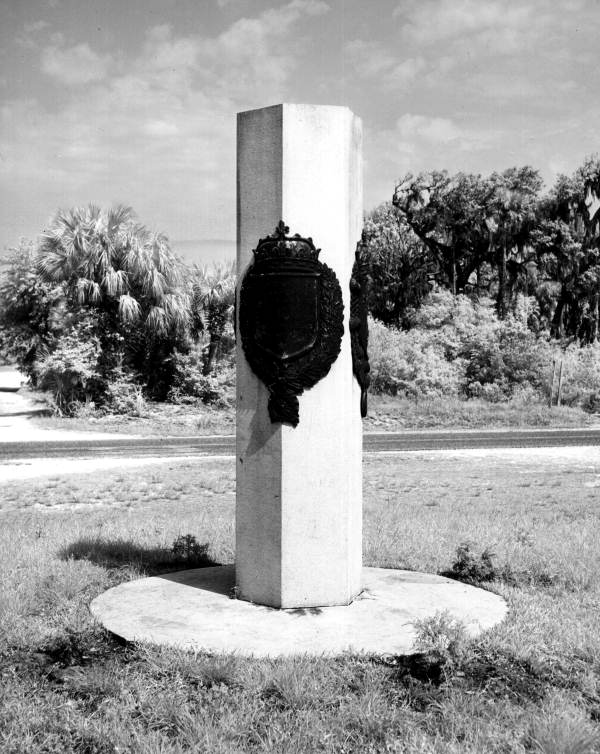 Ribault monument, St. Johns Bluff, placed here in 1958 (courtesy of the State Archives of Florida)
This situation soon changed, however, and over the next year, Fort Caroline was beset by hunger, Indian attacks and mutiny. The French settlement also attracted the attention of Spanish authorities, who considered it a challenge to their control over the area.
In June 1565, Ribault was released from English custody, and Coligny sent him back to Florida. On Aug. 28, Ribault arrived at Fort Caroline with a large fleet and hundreds of Huguenot soldiers and took command of the settlement. This news was not received well in Catholic Spain, however, which also was trying to establish its position in the region. The recently appointed Spanish Governor of Florida, Don Pedro Menéndez de Avilés (1519-74), was given orders from the Crown to remove the French outpost. He arrived within days of Ribault's landing. After a brief skirmish between Ribault and Menendez's ships, the Spaniards retreated 35 miles south, where they established their settlement at what became St. Augustine. This was the first known naval engagement between European countries in the interior waters of North America.
Ribault pursued the Spanish fleet with several of his ships and most of his troops, but he encountered a violent storm lasting several days. Meanwhile, Menéndez marched his forces overland and launched, on September 29, a surprise dawn attack on the Fort Caroline garrison, which contained no more than 250 people. Only a few defenders, including Laudonnière, managed to escape execution.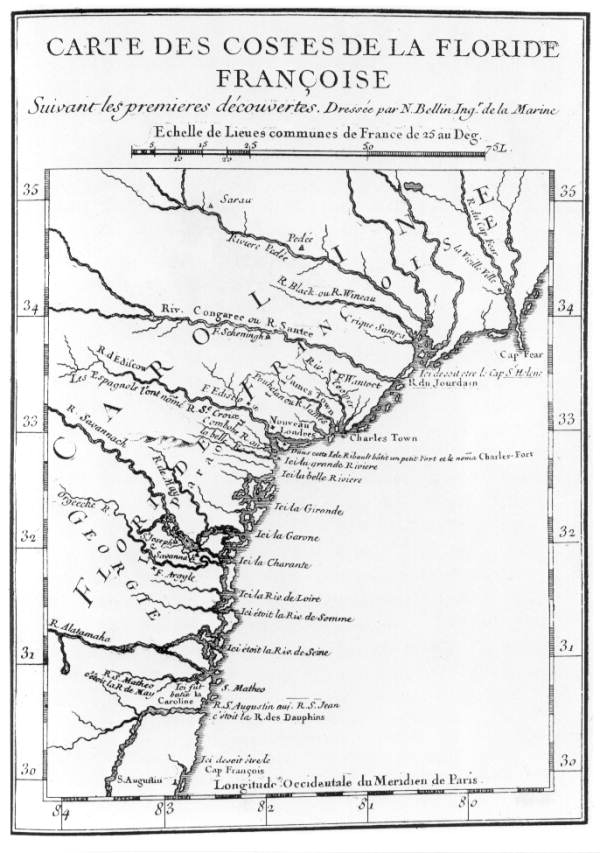 French map of the Florida coast, 17th c. (courtesy of the State Archives of Florida).
As for Ribault's fleet, all of his ships – including the flagship Trinité – either sank or ran aground south of St. Augustine during the storm. Ribault and his exhausted sailors were eventually located by the natives, who alerted Menéndez and his troops of their presence. Soon, the Spaniards brought an armed boat to meet the stranded French and summoned them to surrender. Apparently believing that his men would be well treated, Ribault capitulated on October 12. Menéndez then executed Ribault and his Huguenots as heretics at what is now known as the Matanzas Inlet, near St. Augustine, from which this inlet derives its name. Only a few Frenchmen escaped slaughter. One of them was the young artist Jacques LeMoyne (1533-88), who made it back to Europe, where his watercolors of Florida were turned into engraved images by Theodore de Bry. These images composed a book, Brevis narratio eorum quae in Florida Americae Provicia Gallis Acciderunt ("A Brief History of Those Things Which Befell the French in Florida"), first published in Frankfurt, Germany, in 1591.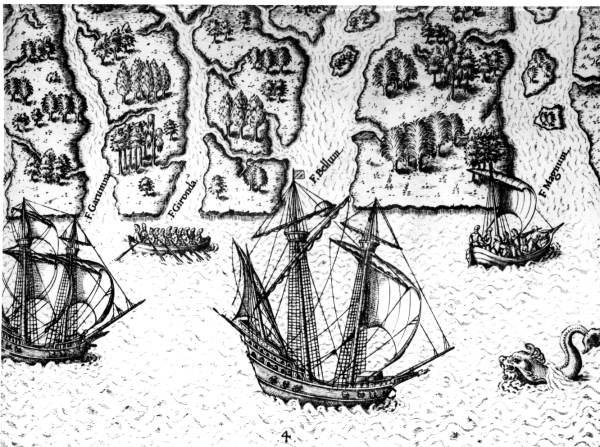 "Six other rivers observed by the French." One of the De Bry's engravings, 1591, after Le Moyne's watercolors, 1564 (the State Archives of Florida).
These events put an end to France's attempts at colonization of the southeastern Atlantic coast of North America. The Spaniards destroyed Fort Caroline, and built their own fort on the same site, renaming it San Mateo. In April 1568, the mercenary and adventurer Dominique de Gourgues, a native of Bordeaux (1530-93) led a French force that attacked, captured and burned the San Mateo fort. He then slaughtered the Spanish prisoners in revenge for the 1565 massacre. The Spanish soldiers and mariners rebuilt the fort, but permanently abandoned it the following year.
First French explorations and settlements in Florida (courtesy of the French Consulate in Miami)
Related links: