French Trail in Florida, 1562-Present
III. Between the wars and revolutions
7. Campbell Town: French Huguenots in British West Florida
(1766-69)
Immediately after taking control of Florida in 1763, the British government actively began an extensive campaign to attract settlers to the Gulf coast of Florida, which was under a newly-appointed Governor, Commodore George Johnstone.
On November 21, 1763, an article in the London Gazette invited requests for land grants from those interested in immigrating to West Florida. Among numerous petitions received by George III's Board of Trade was the formal proposal dated June 26, 1765, of several French Protestants, who stated that they "wished to migrate to West Florida in order to apply themselves to the culture of vines and bringing up silkworms" and requested passage, clothing, tools, and all other temporary subsistence necessary. At the same time, Montfort Browne – a newly appointed lieutenant governor of the West Florida province – presented the same proposal, offering his sponsorship in leading the French (and some Irish) immigrants to the New World. After his persuasive speech, the Board of Trade agreed that Lt. Gov. Browne should transport 60 French settlers to Mobile or Pensacola. For each settler, he would receive a fixed monetary grant. Upon their arrival in West Florida, the French colonists were to be furnished with arms and tools as well as nine months' provisions. The final agreement was signed on July 5, 1765, and in fall 1765, the ship Red Head – carrying Browne and his future colonists – departed Cork, Ireland. By mid-January 1766, they all arrived in Pensacola, West Florida.
On January 20, 1766, Lt. Gov. Browne appeared before the West Florida Council and was sworn in. In the meantime, the new French arrivals – 22 men, eight boys, 12 married women and four girls, according to one report – were placed in the temporary hospital that had been built for the British troops, thus awaiting decision of the authorities. Browne presented Gov. Johnstone with a letter from the Board of Trade that had instructed him to provide a township of 20,000 acres "on such convenient spot as they [the French colonists] themselves shall choose, adapted to the objects they have in view."
British map of West Florida, c. 1767 (courtesy of the Perry-Castañeda Library Map Collection)
A delegation of the French immigrants examined several tracts of land and selected a site on the Escambia River – which they decided to call Campbell Town (today's Escambia County) – located "twenty miles from Pensacola by water and ten by land, the area in beauty or richness of soil [that] can hardly be excelled." Browne, however, did not share this opinion, for less than a year later he reported to the Board of Trade that the settlers "had the misfortune, upon their arrival to fix a very unhealthy spot for their settlement."
Browne's first year as lieutenant governor was turbulent, as he was in constant disagreement with local authorities regarding the payment for the French settlers' supplies and ammunition. Some of his land claims were contested, and his relationship with Gov. Johnstone was strained after Browne sided with some officers of the local garrison in disputes between them and the governor. Johnstone left West Florida in January 1767, leaving Browne in full command.
There is little recorded documentation available concerning the actual French settlement of Campbell Town. The entire town was divided into lots. Married settlers had preference in receiving lots while unmarried ones received land by drawing in a lottery. Although the settlers moved into Campbell Town, built houses and cultivated the land, only a few took the trouble to petition for land grants.
To defend against attacks by local Creek Indians, it was decided to build a "respectable Block House" at Campbell Town to protect women and children in case of attack. In addition to this threat, the French immigrants were having a difficult time simply surviving. The French settlers petitioned Browne in early 1767 requesting additional supplies and military assistance. To deal with the British authorities, the French were forced to sign a petition, insisting they must remain in the township and cultivate their land or forfeit it. The signature collection did not go well, however. In December 1767, the Reverend Levrier petitioned for additional town lots in Pensacola, on behalf of the settlers, which he received in April and December 1770.
In the meantime, the population of Campbell Town continued to decline, and by summer 1768, Browne wrote to the Board of Trade that the immigrants had "long abandoned Campbell Town on account of its unhealthiness." All attempts to create an adequate representation involving the remaining French settlers had failed and, by the beginning of 1770, the place was entirely deserted. Some immigrants probably died of yellow fever, while others may have simply left the province to seek a better life.
After Barton J. Starr, "Campbell town: French Huguenots in British West Florida," Florida Historical Quarterly 54, No. 4 (1976): 532-47.
8. The shipwrecks, notorious adventurers, and war prisoners
In January 1766, en route from St. Dominique (Haiti) to New Orleans, a French merchant ship, Le Tigre, led by Captain La Couture, wrecked in a storm at Dog Island, offshore what is now near Carrabelle in Franklin County. Fifteen passengers made it to shore, but only three were still alive (apparently, after committing cannibalism) when they were found in May of that year by the British Lt. George Swettenham's patrol sent from Fort Saint Marks. Their suffering at the hands of nature and their encounter with local Indians are recounted in a narrative by Pierre Viaud, the 41-year old licensed merchant marine from St. Nazaire. The graphic account was published as Shipwreck and Adventures of Monsieur Pierre Viaud (Bordeaux, 1768; English version was produced in 1771).
After their rescue, all three survivors – Viaud, the wife of Capt. La Couture and her son – met with the governor of East Florida, James Grant, who paid for their voyage to New York.
By 1776, both the French and Spanish hoped to regain all they had lost to the British in North America. Although the government of the French King Louis XVI was willing to aid the Americans in their revolt against the British, its true intention was to resurrect New France and the territory of French Louisiana. As the American Revolution progressed, the French considered participating in attacks on East and West Florida, but only in cooperation with Spain or the United States. Charles-Francois Sevelinges Marquis de Bretigny (1758-93), a captain of the Royal Household, whom Benjamin Franklin (ambassador to France) recommended to Congress, had sailed to America in early 1778. Unfortunately, de Bretigny and his 10 companions – young French officers, carrying uniforms and equipment for the Continental Army – were captured by the British and detained in St. Augustine's prison at Fort St. Marks. They shared the same fate with some 400 French seamen, whose sudden "arrival" swelled St. Augustine's population, posing a threat to the security of East Florida's capital. This alarmed British colonial Gov. Patrick Tonyn (tenure 1775-83), and he sent them off to the West Indies for a prisoners' exchange. Imprisoned for nearly six months, Marquis de Bretigny eventually broke his parole and escaped. In the late summer of 1778, de Bretigny made his way to Philadelphia, where he urged an expedition against East Florida, by pointing out before the Continental Congress the weak spots in St. Augustine's defenses. The fall of Savannah to the British and the influx of Loyalists into the area in December 1778 ensured that, at least for the time being, East Florida would remain in British hands.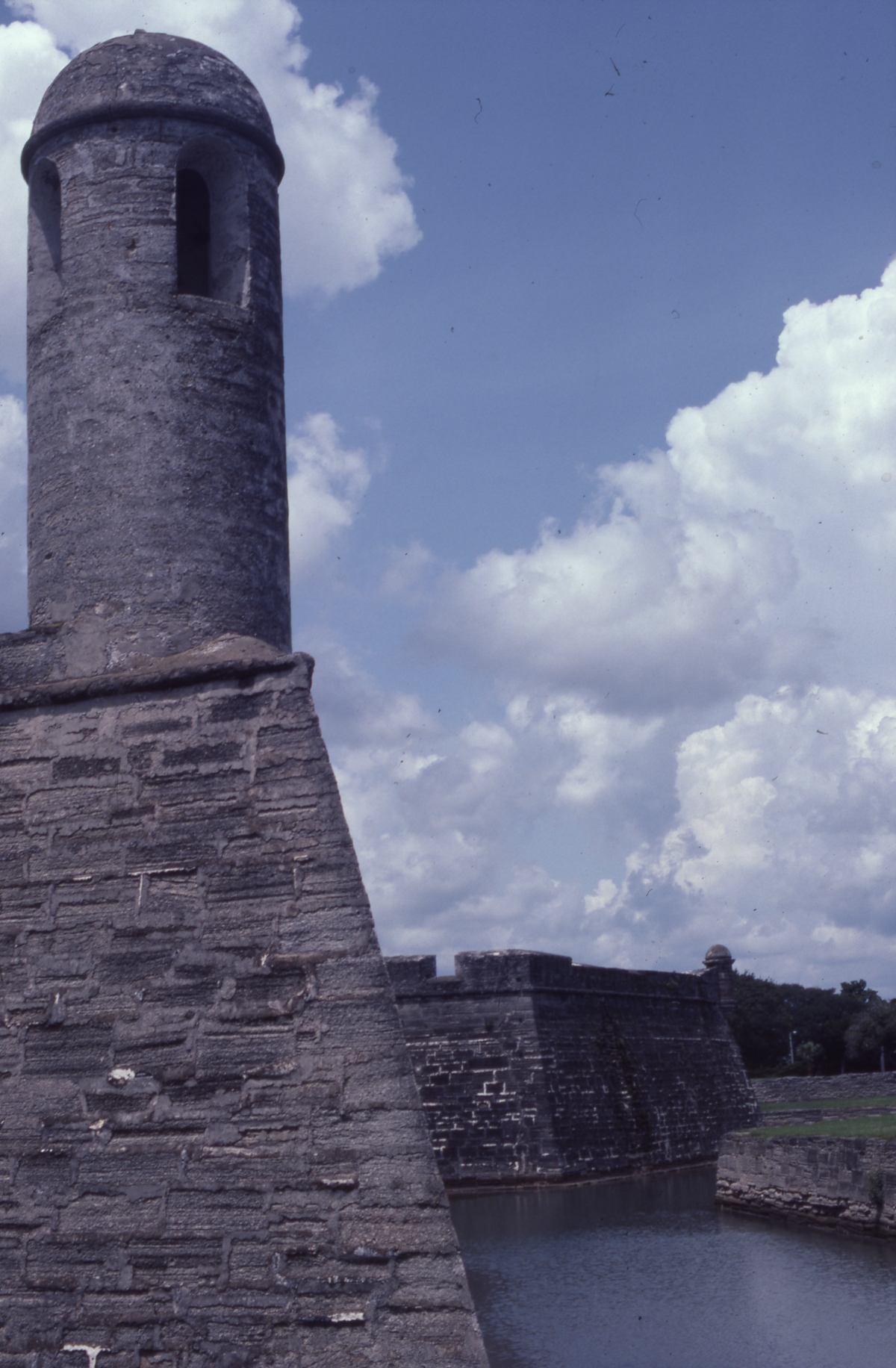 Castillo de San Marcos at St. Augustine (courtesy of the State Archives of Florida)
In early November 1804, another incident involving the French occurred, when the HMS Athenaise – a 350-ton vessel built in Normandy, France, which had fallen into British hands – sailed from Jamaica to England, carrying 184 French prisoners for an exchange. A storm drove the Athenaise ashore near present-day Fort Lauderdale. Although the survivors were able to save some of their supplies, most decided to walk north along the beach. After two weeks and nearly 300 miles of walking, only 130 exhausted and hungry men reached St. Augustine, where they were met and taken in by the Spanish soldiers who were at that time allied with the French.
Related links:
Brief of Marquis de Bretigny's biography
http://www.ncmarkers.com/Markers.aspx?sp=search&k=Markers&sv=C-27

Shipwreck and Adventures of Monsieur Pierre Viaud (1771 edition)
http://books.google.com/books?id=S1_QAAAAMAAJ&printsec=frontcover&dq=Shipwreck+and+Adventures+of+
Monsieur+Pierre+Viaud&hl=en&ei=E__wTsr5HpGCtgfFz_HQBg&sa=X&oi=book_result
&ct=bookthumbnail&resnum=2&ved=0CDoQ6wEwAQ#v=onepage&q=Shipwreck%20and%20Adventures%20of%20Monsieur%20Pierre%20Viaud&f=false