French Trail in Florida, 1562-Present
IV. The Long 19th Century
9. The story of Louis-Michel Aury, a privateer
Louis-Michel Aury (1788-1821), a French privateer, was born in Paris. He served in the French navy, but by 1810 had deserted to become the master of his own vessel and destiny.
He supported the Spanish colonies of South America in their fight for independence from Spain by attacking Spanish ships. He assisted Simón Bolívar, leader of the Latin American revolutionaries, but later abandoned the cause over payment disagreement for his services.
Aury then accepted an appointment as resident commissioner of Galveston Island, Texas, offered by José Manuel de Herrera, who was an envoy from the fledgling Republic of Mexico, and had declared Galveston a port of the Republic. Aury established a privateer base there in September 1816.
While Aury was transporting Spanish troops to the Santander River in Mexico, another French privateer, Jean Lafitte (1776-23), took control of the base at Galveston. On his return to Texas, Aury made an ill-fated attempt to establish another base at Matagorda Bay. He finally left Texas in 1817 to assist the Scottish adventurer Gregor MacGregor, the self-styled "Brigadier-General of the United Provinces of the New Granada and Venezuela and General-in-Chief of the armies of the two Floridas," in attacking Spanish Florida from
Amelia Island
, in today's Nassau County. MacGregor left in November but Aury remained, proclaiming the island an independent republic. In December 1817, however, the U.S. Army drove Aury out.
10. The "Audubon House" in Key West
John James Audubon (Haiti-born Jean-Jacques Audubon, 1785-1851) was a famous French-American ornithologist (a branch of zoology that studies birds), naturalist and artist. In 1832, Audubon is known to have visited Key West, taking cuttings from the plants growing on the property, now known as the "Audubon House" Museum & Tropical Gardens, 205 Whitehead St. His painting of the white-crowned pigeon features the Geiger tree, which still can be found in the front yard of the house. During several trips to Florida (including a short stay at St. Augustine and John Bulow's Plantation), Audubon discovered and depicted 52 new types of birds. His letters home and other published writings also recorded the scenery, settlements and colorful inhabitants of Florida. Some of these descriptions were published in his Ornithological Biography (1831-49).
The original owner, John Geiger, built his house around 1850. The "Audubon House" Museum & Tropical Gardens was restored in 1960 by Key West natives Mitchell and Frances Wolfson.
11. Lafayette's land grant and "Frenchtown"
The next chapter in Florida's French connection is closely associated with several prominent figures from the era of the American (1775-83) and French (1789-99) revolutions, as well as Napoléon's First Empire (1804-15). One of them was Marie-Joseph Paul Yves Roch Gilbert du Motier, Marquis de Lafayette (1757-1834), a noble and one of the richest men in France. In 1777, Lafayette traveled to the United States, where he served as a Major General in the Continental Army fighting against the British during the American Revolution.
For his distinctive service, the U.S. Congress awarded Lafayette $200,000 and his choice of a township of 36 square miles of land, which was given during Lafayette's visit to the United States in 1824-25.
At that time, Florida, the most recent acquisition of the United States in 1821, was in the public eye as its first real estate boom was in progress. Because certain areas had great possibilities for agriculture and development, the government was trying to attract settlers. To select the site of the township, the government appointed Colonel John McKee, congressman from Alabama, who was well-known as a land agent. He reached Florida in early April 1824, and went to Tallahassee, the newly established territorial capital. On June 22, McKee wrote to George Graham, the Commissioner of Public Lands that the selection of land had been fixed. The warrant officially giving Lafayette, the land grant was signed by President John Quincy Adams on July 4, 1825.
Known as "Lafayette Plantation," the property included Lake Lafayette in the coastal lowland in eastern Tallahassee, in the area of today's "Fallschase" housing development. The southwest corner of Lafayette's grant is marked by a monument, which also serves as a survey marker for the Tallahassee Meridian. Lafayette never saw his land in Florida. His grandchildren, Edmond and Ferdinand, paid a visit in 1850.
Lafayette's American experience during his youth had matured his political philosophy, and the abolition of slavery played an important part in shaping his thinking. In Florida he saw an opportunity to establish a free community. In March 1831, three old friends of Lafayette led some 50-60 French peasants from Normandy – equipped with seeds, cuttings, and tools – to their first settlement in the area. They found Florida's subtropical climate far too warm, however, and in spite of the excellent soil and generous grants, after three months only 50 acres had been cleared. To add to their misery, their land deeds had not been properly certified and were, therefore, void. Gradually, the colony began to break up. Most of these settlers returned to France; others went on to the French city of New Orleans. A few remained and, with the aid of Achille Murat, made a living. By the 1840s, French merchants and journeymen owned one-third of the property in the area, which is today known as Tallahassee's "Frenchtown." By 1855, all the land included in the Lafayette township (over 23,000 acres) had been sold to private plantations, which grew cotton until the 1860s.
On December 23, 1856, Lafayette County, the 33rd county in the state, was created from part of Madison County, and included what is now both Lafayette and Dixie counties.
Lafayette County, Florida
12. Napoléon's Gen. Simon Bernard
The tumultuous decade of the French Revolution ended with the coup d'état of 1799, which propelled the young and ambitious French general, Napoléon Bonaparte, to Emperor of the French in 1804. The following "new order of things," and wars of 1804-14 provided an opportunity for career advancement for many talented people, including General Simon Bernard (1779-1839).
In 1794, Bernard entered the famous L'École polytechnique in Paris and later became a talented military engineer. Serving with the French army since 1799, he took part in many battles, and by 1814 was a baron of the French Empire and général de brigade.
After Napoléon's first abdication in 1814, Bernard rallied to King Louis XVIII but rejoined Napoléon when the exiled emperor returned from Elba. When Napoléon was defeated at the Battle of Waterloo and the King returned, then-royal Minister of War, Gen. Henri Clarke, banished Bernard from France. Napoleon's secretary, Louis Bourrienne, later wrote in his 1818 Mémoires, "this silly conduct deprived France of this distinguished man, who refused the brilliant offers of several sovereigns of Europe for the sake of retiring to the United States of America, where he commands the engineers, and has constructed fortifications on the coast of Florida, which are considered… to be masterpieces of military art." On November 16, 1816, President James Monroe commissioned Bernard to be "an assistant in the Corps of Engineers of the United States, with the rank of Brigadier General by brevet and the compensation that is allowed to the chief of that corps." Gen. Bernard remained in the United States until July 1831.
Gen. Bernard was appointed to design Fort Pickens, which was constructed mainly by slave labor between 1829 and 1834. Located at the western tip of Santa Rosa Island, Pensacola, just offshore from the mainland, Fort Pickens (accompanied by the nearby Fort McRee) strategically guarded the island and the entrance to the harbor at Pensacola. Gen. Bernard recommended a series of canals, comprising a complete inland waterway along the entire coast, which included a canal across the lower part of Florida to the Gulf of Mexico. One of them is the Intracoastal Waterway Cross Florida Barge Canal, which is as lively an issue today as it was in 1836. However in 1936 this project was put on hold and eventually abandoned in the 1970's.
13. Former royalty - Achille (and Catherine) Murat
One of Emperor Napoléon's close collaborators was Joachim Murat (1767-1815) – Marshal and Grand Admiral of the Napoleonic Empire (1804), Grand Duke of Cleve Berg (1806-08) and King of Naples and Sicily (1808-14). In 1800, he married Napoléon's sister, Caroline Bonaparte (1772-1839), and they had four children. The life of one of them, Achille, was closely associated with Florida and Tallahassee.
Napoléon's nephew, Achille Charles Louis Napoléon 2nd Prince Murat (hereditary Prince of Cleve Berg, Crown Prince of Naples) was born on January 21, 1801, in Paris, France. As a boy and young man, Achille traveled with his illustrious family from western Europe to the Italy. By 1814, the Emperor Napoléon was defeated and compelled to abdicate, while his brother-in-law, King Murat, formed an alliance with the Austrians – his former enemies – in order to save his own throne. In the spring of 1815, however, Murat lost everything after a failed attempt to regain the crown through an insurrection. On October 13, 1815, the former King of Naples and Sicily was executed before a firing squad.
Following his father's death, Achille Murat lived with his family in several places in Austria, and when he turned 21 years old, the former Prince decided to immigrate to America. In 1823, he embarked from a Spanish port bound for the United States. There he used an assumed name, since he had a striking resemblance to his famous uncle. Even though he renounced all his European titles and citizenship, his social connections took Murat to Washington where he befriended Gov. Richard Keith Call, Florida's territorial delegate to the Congress.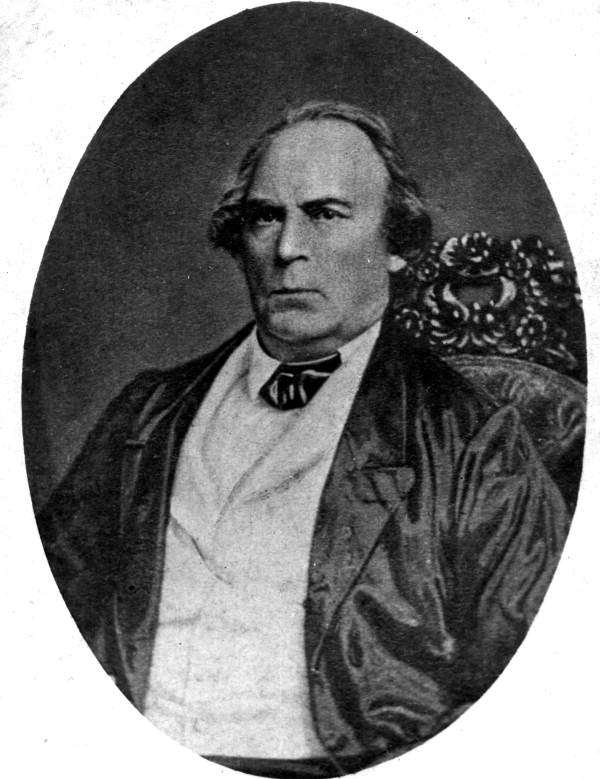 Richard Keith Call, territorial governor of Florida (photo, courtesy of the State Archives of Florida)
Gov. Call told Murat of opportunities in the new territory of Florida which, in 1821, had been acquired by the United States from Spain. In 1824, Achille settled in St. Augustine, living briefly at what is now called the "Prince Murat House," still located at 250 St. George St..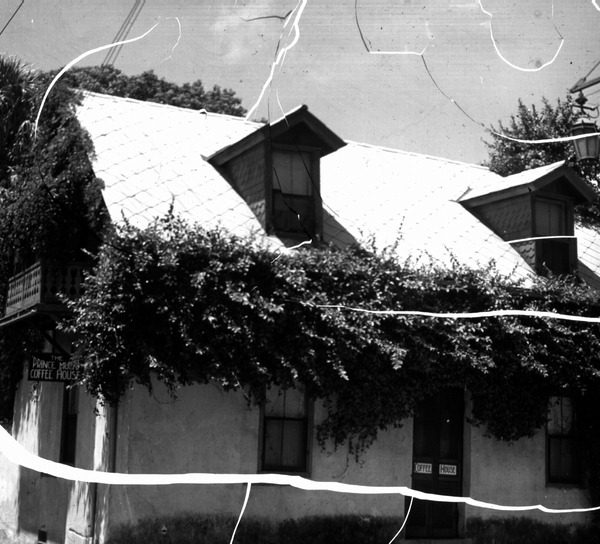 Murat's house in St. Augustine, c. 1790 (courtesy of the State Archives of Florida)
Murat soon became part of St. Augustine society by joining the Masonic lodge and dabbling in local politics. He enrolled in the local militia and volunteered briefly under the command of his friend, Brigadier General Joseph Hernandez.
Around the same time, Murat purchased an extensive property of 2,800 acres about 10 miles south of St. Augustine on the Matanzas River at the mouth of Moses Creek, and built a plantation, where he planted orange groves, rice and indigo. He named it Parthenope, in honor of the artificial Parthenopean Republic created during Napoléon's first Italian campaign of 1796-97.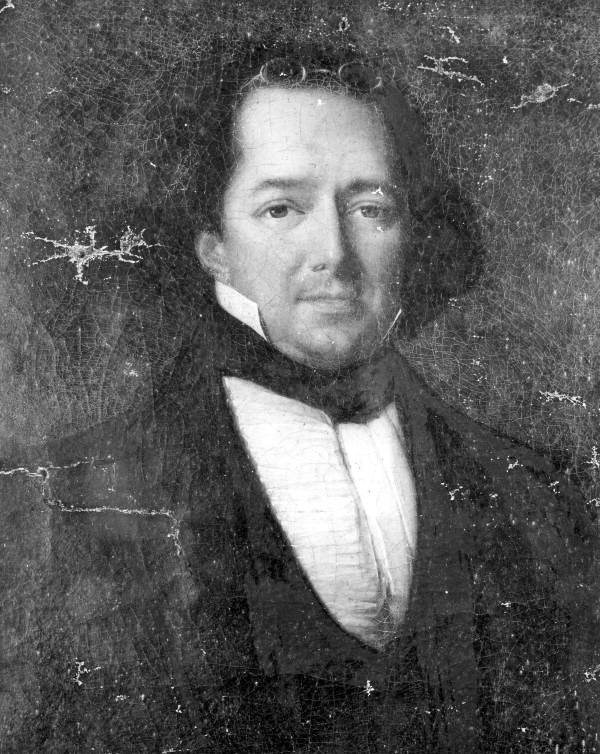 Achille Murat in his later days (courtesy of the State Archives of Florida)
Around 1825, Murat bought the land he would call Lipona Plantation, located 15 miles east of Tallahassee. He lived there during the remainder of Florida's territorial and early statehood days. The name Lipona is an anagram of Napoli (Naples), the kingdom over which Prince Murat was once destined to rule. His decision to purchase Lipona was probably related to other French settlers who had moved to the area.
In 1825, Murat was elected an alderman of Tallahassee and mayor in the same year. In 1826, he was appointed postmaster, an office he held until 1838. On July 12, 1826, in Tallahassee, Murat married Catherine Daingerfield Willis Gray (1803-67), who was the great-grandniece of George Washington. During the early phases of the Second Seminole War, Murat served in Florida's militia and was an aide to Richard Keith Call, territorial governor.
Murat and his wife eventually moved to New Orleans, where he lived for several years and worked as a lawyer. Following the July Revolution of 1830 in France, Murat returned to Europe and served briefly as a Colonel of the Belgian Legion (Kingdom of the Netherlands). While in Belgium and France, he had hoped to regain some part of the family fortune that he believed to be his, based on the properties of his parents. His attempts were futile and, in 1834, the Murats returned to the Tallahassee area. In February 1834, Murat was appointed a judge in Jefferson County.
Murat died on April 15, 1847, at his Lipona Plantation and was buried in
St. John's Episcopal Church Cemetery
, now part of downtown Tallahassee. After his death, Murat's wife, Catherine, moved to
Bellevue
, a plantation which she purchased in 1854 and lived there until her death in August 1867. The Bellevue main house was relocated to the Tallahassee Museum of History and Natural Science where it can be visited today.
14. Two decades of Fort Denaud, 1838-58
Fort Denaud, in present-day Hendry County, was established in 1838 during the Second Seminole War (1835-42) as one of a series of posts linking American operations south of Tampa to the east coast. It was constructed on the south bank of the Caloosahatchee River, 27 miles east of Fort Myers, on land owned by Pierre Denaud, a French-Indian trader. The fort originally consisted of tents with a blockhouse in close proximity. It was a supply depot for troops in the Lake Okeechobee area and was in use until the Second Seminole War ended in 1842.
Fort Denaud was reopened in 1855, soon after the outbreak of the Third Seminole War. Additions included company quarters, hospital, guardhouse, prison, sutler's store, and stables. A farming community formed around the fort, based on the cultivation of citrus and sugarcane in the area. A fire ravaged the post in June 1856, and it was rebuilt on another site on the north bank of the river, one mile downstream.
The fort was ultimately abandoned in May 1858, and local residents left the area as well. Nothing remains of the fort itself, except for a few original pieces of its foundation. The area is now mainly orange groves and used for citrus packing and shipping. The surrounding modern-day community of Fort Denaud took its name from the old fort (also spelled Deynaud). In 1963, a swing-style bridge was built across the Caloosahatchee River at the site. This is one of only 83 survived bridges in the U.S. and one of only 8 in Florida.
15. Florida's First Bishop and Sisters of St. Joseph
With the establishment of a diocese in St. Augustine in 1870, its first appointed bishop was French-born Jean-Pierre Augustin Marcellin Vérot, who exercised his authority until his death in 1876.
With energy and diligence, Vérot traveled from mission to mission, but was pained that he could not provide resident pastors to towns and villages that asked for them. Therefore, he sailed to France to recruit them. Vérot returned to Florida with seven priests, two of whom, Henry Peter Clavreul and Peter Dufau, became his close associates. Father Clavreul was sent to Mandarin, near Jacksonville, as the head of the St. Joseph Catholic mission, a position he kept for 25 years. In 1902, he became vicar general of the Diocese of St. Augustine.
In St. Augustine, a property previously owned by Father Michael O'Reilly in the early 19th century, was turned into the parish rectory which, since 1866, was occupied by the Sisters of St. Joseph (congregation founded in 1650, under the guidance of a French Jesuit priest, Father Jean Paul Médaille) whom Verot recruited from Le Puy-en-Velay, a location in south-central France.
Many sisters volunteered, but the first eight chosen were Sister Marie Sidonie Rascle, Superior, along with sisters Marie Julie Roussel, Marie Josephine Deleage, Marie Clemence Freycenon, Saint Pierre Borie, Marie Joseph Cortial, Julie Clotilde Arsac, and Marie Celenie Joubert. They arrived in Florida at Picolata Landing on the shores of the St. Johns River, September 2, 1866.
The sisters from France adjusted to a different language, culture, and climate with joy and faith. They welcomed new members as they mourned the number of those who died of disease and unhealthy conditions. The sisters established missions in Florida and Georgia. In their endeavors, they always tried to meet the needs of the sick and poor. They devoted their energy mainly to the education of the various social groups, but primarily newly freed blacks, trying to bring them into the ranks of the Roman Catholic Church, thus competing with Protestant efforts. One of their first accomplishments was the establishment of free schools for black and white boys (1867) and other similar facilities. The most notable schools established were St. Joseph Academy for white girls (1877), and St. Cecelia's School/St. Benedict the Moor for blacks (1898) in St. Augustine, now located in the Lincolnville.
Other congregations, which included schools, were founded in nearby Jacksonville (1868), Fernandina Beach (1872), Mandarin (1874), Palatka (1876), Elkton (1882), Orlando (1889), Ybor City (1891) and Miami (1905). Outside of their educational efforts, the sisters' major contributions were in treating victims of yellow fever epidemics that struck Fernandina in 1877 and Jacksonville in 1888.
In 1944, the O'Reilly House was opened as a museum, but the last class was taught in it in 1956.
16. Philippe Odet and the Philippe Park
In 1832, Philippe Odet (1787-1869), a native of Leon, built the first homestead located on Old Tampa Bay, about 20 miles northeast of Pass-a-Grille which, according to a local legend, derives its name from the French Passe aux Grilleurs ("Passing a grill"), alluding to the fishermen who would bring their catches ashore to grill them. By 1842, Odet became the first permanent, non-native settler on the Pinellas Peninsula, where he acquired 160 acres of land in what is today Safety Harbor. Odet was a successful businessman who introduced cigar making and grapefruit cultivation to the Tampa Bay area. His descendants, including the McMullen and Booth families (after whom McMullen-Booth Road is named), are among Pinellas County's most well-known pioneers. In 1869, Philippe Odet was buried in Philippe Park, his former plantation, which was named in his honor.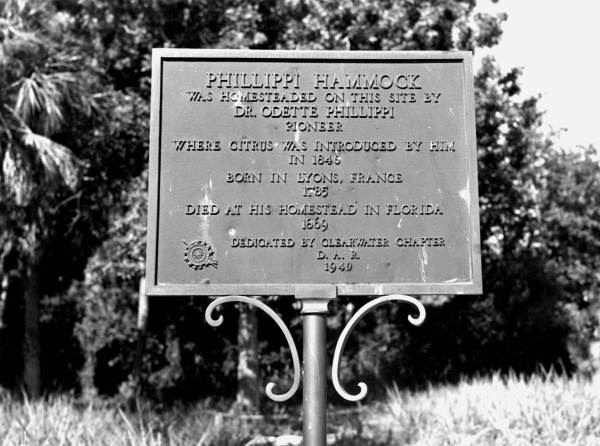 Odette sic Phillipi sic dedication (courtesy of the Florida State Archives)
17. Marquis de Fougère's Plantation
Another Frenchman who owned a plantation along Florida's east coast was former lieutenant colonel and chevalier of the Military Order of St. Louis, Rose Francois Felix Marquis de Fougère (? – 1840), the French consul at Charleston, S.C. In the 1820s, he spent much time in St. Augustine. In the February 14, 1824, issue of the East Florida Herald, Fougère contributed a half-column article on "the method of making sugar as recently introduced by the chemists of Paris." Marquis de Fougère's plantation, Rosetta on the Tomoka River, in today's Volusia County, was acquired by him after the death of the previous owner, Robert McHardy. The Rosetta property was described as "one of the most valuable plantations in all of Florida." It consisted of 1,762 acres of which 500 were hammocks, about 280 cleared for cotton and corn, and about 700 acres of "fresh marsh, a considerable portion of which was formerly cultivated as rice fields." According to the records, buildings included the old dwelling house, a large cotton house, gin house, kitchen and others, including housing for 50 slaves.
18. Emil Dubois and his vineyard at Mission San Luis
Although mainly associated with a 17th-century Spanish mission to the Apalachee Indians, Mission San Luis also has a French connection at the site. In June 1884, Helen Bigelow Dodd of Boston sold a portion of the San Luis property to Emil Dubois (1844-?), a native of the Bordeaux region in France, who created and managed a very successful vineyard there.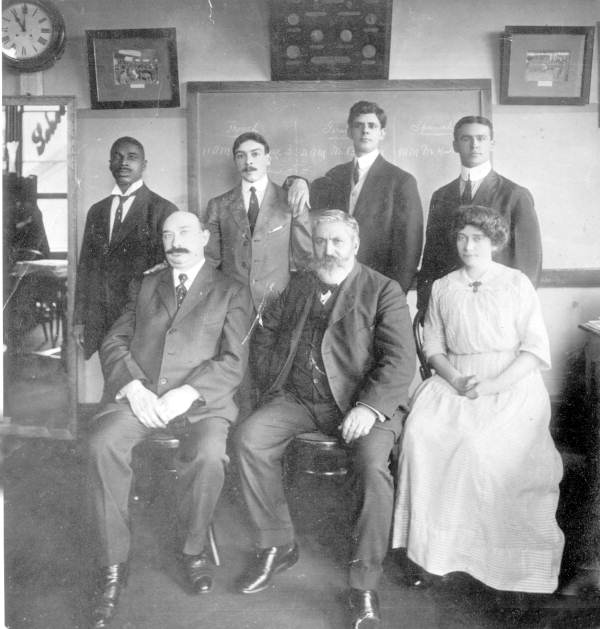 Emil Dubois (center) at San Luis (photo, courtesy of the State Archives of Florida)
Dubois was a pioneer in Florida horticulture. He arrived in Tallahassee in 1883 "with the intention of testing [Florida's] capability as a grape-growing country." In 1889, Dubois published an illustrated book, Grape Growing and Wine Making in Florida, detailing every aspect of the business. He authored a regular column called "The Vineyards" in the statewide publication, Florida Dispatch, and traveled by train throughout Florida to promote grape growing. In 1900, he won gold and silver medals for wines and another silver medal for brandies at the Paris Exposition. Dubois returned to France around 1916.
19.The French honorary Consulate, Apalachicola
On August 12, 1845, Apalachicola – one of the largest and busiest seaports along the Gulf Coast at that time – was granted permission to establish an honorary Consulate (d'une agence consulaire). The Consulate supposed to protect the commercial interests of its French citizens and firms who conducted business in the port and nearby area. One of them was Mr. Rosan, French (honorary) Consul and a resident cotton buyer.
By the early 1900s, the French Consulate was located on the second floor of the Grady Building (originally built in the late 1880s). From 1889 to 1905, the office of an honorary Consul was held by Antoine Jean Murat.
Its heritage and rich history has passed to "The Consulate," modern-day hotel suites, is located at 76 Water Street.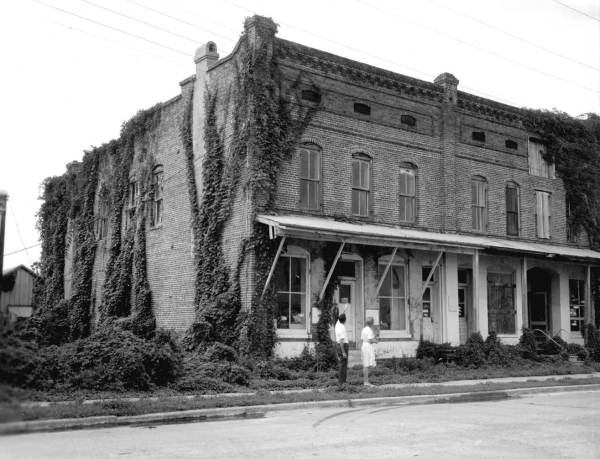 The Grady Store, Water Street, Apalachicola (photo courtesy of the State Archives of Florida)
20. Writers, first 'science fictionists'
François-René de Chateaubriand (1768-1848), a famous French writer and politician, began his career as a professional military officer. When the French Revolution of 1789 broke out, Chateaubriand was initially sympathetic to it. In 1791, as events in Paris became more violent, he decided to go to North America where he spent more than a year. This short experience would provide the setting for his novels such as Atala (published in 1801), Voyage en Amérique (1827),and his autobiographical work, Mémoires d'Outre-Tombe (1848-50), in which the words "Florida" and "Seminoles" appear. Although it is unsure whether Chateaubriand visited the "Sunshine State" personally, his descriptions of nature in the sparsely settled American Deep South were written in a style that was very innovative for the time and spearheaded what would later become the Romantic movement in world literature.
In 1865, Jules Verne (1828-1905), the French author who pioneered what is now known as the science fiction genre, composed a half-humorous novel, From the Earth to the Moon. In it, the fictional Gun Club, a society based in Baltimore and dedicated to the design of weapons of all kinds, casts the early 19th-century Columbiad-type long-range cannon that can shoot a projectile that reaches the moon. Verne's fictional launch site was designated at Stone's Hill in "Tampa Town," Florida. This account predated the Kennedy Space Center's placement in Florida by almost 100 years. In 1965, NASA launched the first French scientific satellite.
Astérix, first French satellite was launched on November 26, 1965 (courtesy of the French embassy in Miami).
21. ... and historians
In 1875, Paul Gaffarel (1843-1920), a professor of fine letters at Dijon, member of the Geographical Society and Society of the French History, published L'Histoire de la Floride française, in which he mentions the first expedition in Florida and describes how Florida was perceived by the first French colonists.
22. Descendants of diplomats, too
In 1873, a toll road connected the East Jacksonville area with the community of Panama at the mouth of the Trout River. The road was later renamed to commemorate the noted seasonal resident, Charles Maurice Camille, Marquis de Talleyrand, who was a descendant of the famous French diplomat and public official, Charles Maurice de Talleyrand-Périgord (1754-1838).
In 1869, Elizabeth Marquise de Talleyrand-Périgord, the American wife of Charles Maurice Camille, purchased a 30-acre parcel known as "Millwood," on the south side of Long Branch Creek, in Marion County, where it empties into the St. Johns River. Originally constructed in the 1850s, "Millwood" was the country estate for the family of lumber mill owner James Daniel that included his son James Jaquelin Daniel (1832-1888), a respected city leader. Talleyrand occupied "Millwood" for a few seasons, selling the property by 1873.
23. St. Augustine Lighthouse and Fresnel lens
Augustin-Jean Fresnel (1788-1827) was a French engineer recruited by the French Government as the commissioner of lighthouses in 1819. In 1822, after some experiments, Fresnel developed a multipart lens for lighthouses that made him world-famous. Not only would the Fresnel lens reflect and refract light, it also captured as much as 80 percent of the light from the light source and was visible 20 miles out to sea.
The great majority of lighthouse lenses then used in the United States came from France, near Paris. The Fresnel lens at the St. Augustine Lighthouse was 9 feet tall. It was hand-blown in Paris specifically for the St. Augustine Lighthouse in 1874. In its February 28, 1889 issue, The Saint Augustine Weekly News described the lens: "The lamp was a brass cylinder of 10 gallons capacity. Inside it has a heavy weight which governs the flow of oil to the burner. The burner has five wicks in concentric circles. A chimney leads to the roof. It has a damper which regulates the flame. The globe is a huge case of glass which revolves around the lamp every 9 minutes. It makes a flash every three minutes when a big bulls-eye lines up between the lamp and the human eye. The cage weighs two tons. It revolves around a clock work. The machine is in the glass case directly below the lantern."
In 1936, the St. Augustine Lighthouse was the last lighthouse in Florida to be electrified.
Today only 16 original first-order Fresnel lenses remain inside lighthouse towers and in use in the United States. The St. Augustine Lighthouse and Museum owns and operates this historic optic. It was decommissioned and given to the museum by the United States Coast Guard and the National Park Service through the General Services Administration in July of 2002.
St. Augustine Lighthouse and Museum (photo, courtesy of Ken Badgley)
Related links: